Khanyisa Real Systems
Contact Details
Phone Number:
021 681 2900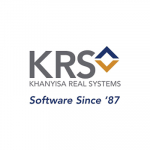 Office Hours / Trading Hours
Introduction of Khanyisa Real Systems
Agile Software Development Custom web and mobile development in .Net and Sitefinity CMS
About Khanyisa Real Systems
Innovation supported by over 30 years of experience
Khanyisa Real Systems (KRS) develops custom software for a wide variety of corporate, government, NGO and start up companies. Read our case studies to see why our clients trust us to deliver great Agile projects and support.
We speak at many local and international conferences to share our knowledge, and assist clients with Agile adoptions and the technical practices from Extreme Programming (XP). We believe that XP is the neglected Agile discipline, and is so needed to help clients improve their Engineering practices.
KRS is a certified Microsoft Gold Partner (since 2007) with competencies in SQL Server, C# and ASP.Net. We are also an award-winning Sitefinity CMS Partner.
Related Keywords
Custom Software Development,
Website, Web Develpment, Web Developer, Cms,
Programming
Similar Listings / Related Businesses Listings
The Best FREE Online Business Directory South Africa
Best Directory is The Best FREE Online Business Directory Offering FREE Business Listings in South Africa. You can advertise an UNLIMITED number of businesses on our FREE business directory.